If you're looking into senior housing, you're looking for the right community. A place where you feel connected and cared for is important for everyone. There are countless names for different senior living options; you may even have heard of continuing care retirement communities before, but what are they?
They can provide the continuing care you need, but you likely want to hear some details. Continue reading to learn more about continuing care communities, including what they are, what they offer, and who can benefit from them.
What is a Continuing Care Retirement Community?
A continuing care retirement community (CCRC) isn't like a retirement home or care facility. It's a community dedicated to providing all forms of residential care at a single location. Continuing care communities offer lifestyles for older adults at all stages of life, including:
With a wide range of supportive services and amenities, these communities help residents live their best lives. They can help you achieve your physical, mental, emotional, and spiritual needs. The available services can depend on the level of care you're receiving, but amenities can include:
Chef-prepared meals
Health & wellness programs
Daily wellness checks
Housekeeping
Laundry services
Salon
Chapel
Library
24-hour staff support
Bistro & pub
CCRCs can cater to your needs no matter how much they change. This caring approach is what separates these communities from others; they're invested in your continued health, no matter what.
What is Continuing Care?
The goal of these communities is to provide a continuum of care. Residents don't need to make disruptive moves or changes when they need more support.
Age brings many changes, and you may require more help with daily tasks. CCRCs can provide you with the care you need, no matter how much it changes.
You can move in independently at first, and when you require more consistent help, the available staff can provide this. You can receive the care you need without losing the connections and friendships you've made.
With the different levels of care these communities provide, what are they, and what services do they offer?
The Different Lifestyles in a Continuing Care Retirement Community
At a CCRC, there are different lifestyles available depending on the level of care you need. There is a lifestyle suited for everyone. You can be fully independent, or you can require more hands-on care.
The different levels of care at a CCRC include: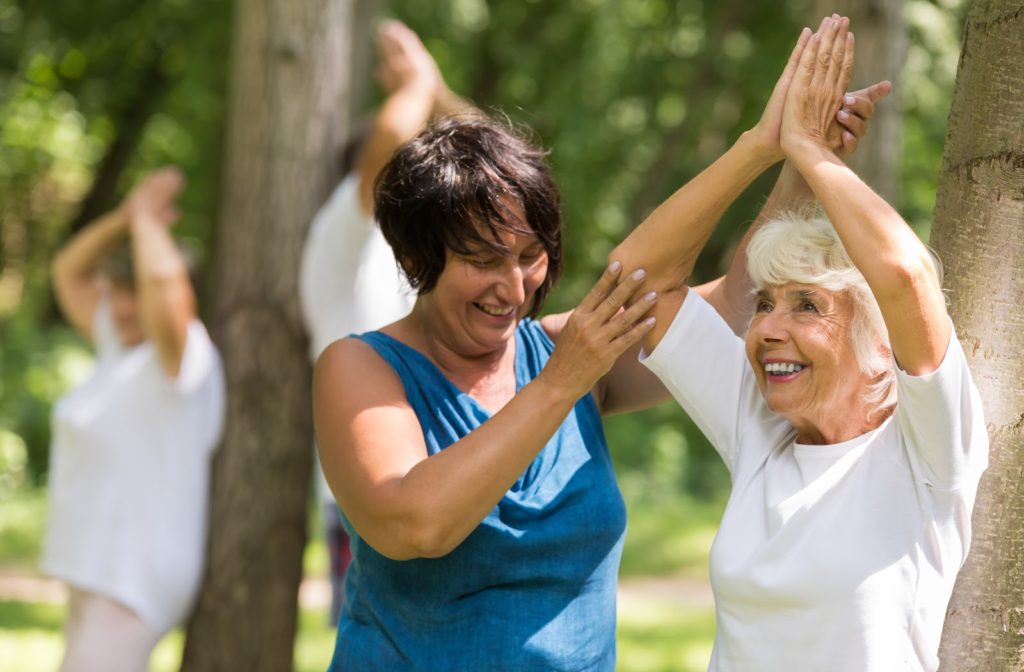 Independent Living
Independent living is perfect for older adults who value their independence but may need some extra support at times. A little bit of help can go a long way.
This lifestyle may be for you if you can manage your daily tasks but want someone else to handle some of the more tedious household chores. You can focus on enjoying your hobbies, friendships, and spare time while others take care of your housekeeping and daily tasks.
Independent living has several supportive services, including:
Health & wellness programs
Chef-prepared meals
Social, recreational, educational, & spiritual opportunities
Daily wellness checks
Housekeeping
Assisted Living
Assisted living is for seniors looking to enjoy their time while receiving the care they need. Everyday tasks become harder with age, and you may feel more winded than usual.
When this happens, you don't need to sacrifice your independence for more help. Assisted living offers as much freedom as you'd like while still receiving the support you need. This lifestyle may be for you if you:
Have trouble moving around
Find daily housework & cooking for yourself challenging
Have difficulty maintaining your hygiene
Forget to take medications or miss doctor's appointments
You can enjoy nutritiously prepared meals, daily housekeeping, 24-hour health staff, and wellness programs in assisted living.
Memory Care
Dementia is common in many adults 65 and older. Over 6 million older Americans suffer from this disease, affecting their ability to take care of themselves.
Memory care can help older adults with dementia get the support they need while offering as much independence as possible. Residents can enjoy themselves while being helped with:
Dressing
Bathing
Personal hygiene
Toileting
Eating
Medication assistance
Transferring assistance
These different lifestyle options have different levels of care for each resident. If your needs change and you require more support, your lifestyle can adapt without having to move or lose the connections you've formed.
Experience the Benefits of Continued Care Retirement Communities
If you're wondering if a CCRC is for you, it is! Continuing care communities offer support, amenities, and services for older adults at any stage of their life. No matter the level of care you require, CCRCs can accommodate your needs.
You don't need to make a final decision; you can tour a community near you to see things for yourself. If you're interested in the different lifestyles available at a continuing care retirement community, contact your local residence.